HISTORY OF QWANDOYA KENNEL

My name is Hanka Pankova and altogether with my boyfriend Pavel and our ridgebacks we are living in a small house near Prague. Qwandoya ridgebacks have started to write their story in 2006, but let´s have a look one more year ago....Our first dog is Maggie , a ridgeback mix, that came into our life in 2005 and since that everything has changed...We had been looking for a dog for some time in shelters and so on and on one lovely day when we were picking up newly bought beds, 4 lovely pups appeared there in storage....and so we had two new beds and one new puppy - our Maggie.
A year later, in 2006, lovely ridgeback girl Kira (MultiCh Bayo Kabo Slunce Zambezi ) joined our family. It was love at first sight. When we came to visit puppies at Slunce Zambezi kennel, little red girl came to me and stayed sleeping at me for whole 6 hours that we were there...so we get the best dog in the world - loving, obedient and completely dedicated ridgeback lady Kira. Kira is multiple champion of beauty, she has several working and hunting exams. We thank from all our hearts to breeder Lenka for our beloved Kira.
Thank to Kira virus called Rhodesian Ridgeback absolutely caught me and from 2008 we have official FCI registered kennel Qwandoya. It is almost impossible to have only one ridgeback, so we brought our Tabi ( Amazing Wayony by Luanda ) from Milada and Tom - thank you very much for her. As Tabi was growing I used to have bad feeling that something is wrong with her....and I was unfortunatelly right. Tabi was diagnosed with severe elbow dysplasia and so all my breeding dreams about her future dissapeared and very hard period full of surgeries and recoveries started. Today Tabi si feeling good (we hope so and try to do everything to make it true) and she is legal member of our pack and our little big sweety.
Kira taught me a lot of things, but only thanks to Tabi I understand what is really important for me in my breeding. Health and character. Only pefectly healthy dog with balanced character will be pleasure for his owners and people are buying pedigree dogs just because they hope for some guarantee, at least that breeder did everything to give them that kind of dog. Pedigree is not the guarantee of complete health because nature and genetics are almighty and also breeders that try their best can do the mistakes, but it is very important in this case that breeder will be helpfull and support the owners in every situation. Now I know that in breeding you sometimes need a bit of luck....so, please, wish me to be lucky...
In 2009 we had big plans with Kiras first litter with amazing swedish male, but unfortunatelly mother nature changed them and there were no puppies for us. I had to start again and try to find another Mr. Perfect. It was almost mission impossible, cause I am really strict in choosing stud dogs.....and so a day after Christmas we made a looong trip to Ukraine to meet wonderfull Grand (Heshima Ya Kimba Grand Aquarius) and his fantastic owner Tatyana, who I have to thank again for posibility to use Grand in my breeding. So in spring 2010 Qwandoya "A" litter came into the world and these 11 sweethearts are making me happy and proud every day. From this litter a little red pearl stay at our house - our Ashari (ICh MultiCh Ashari Pearl for Qwandoya ). Ashari grew into beautifull lady and today she is multiple champion of beauty and FCI Interchampion, but mostly she is our sweet devil, daughter of my beloved Kira.
Two years later I decided that this is right time to have puppies again and with that decission the big challenge to find good stud dog came. After really long searching I have choosen Argos, a dog living in Canada, the most succesfull ridgeback in canadian history, handsome, healthy and balanced dog with really nice character (GrandCh of Canada and USA, canistherapeutic dog). His wonderfull owner Kirsi Larjava helped me a lot with geting his frozen sperm to Europe. First insemination try in spring 2011 in Finland didn´t bring success, but second one in fall 2011 has made 6 lovely puppies born before Christmas 2011. This could never come true without great Kirsi, that I have to thank again for all the help. From this litter we let one girl - Mexx (Bayo Pinky Pearl Qwandoya ), that lives with my sister Niky and one more girl -Lexi (Bayo´s Diamond for Qwandoya ) in coownership. Mexx is my little love and everytime I look at her I know that it worth all the efforts, money and stress that I had with making this litter happened.
For spring 2013 I´m planning Ashari´s first litter, Qwandoya "C".
MY BREEDING GOALS
Qwandoya is our small family type of kennel, breeding and dog shows are my hobbies. Every our litter is properly planned long time before and I try make my litter interesting not only for czech breeding but I mainly try every litter has meaning...My goals as a breeder are health, balanced character, beauty and elegance of my dogs. My big wish is to have breeding that is guarantee of quality dogs, happy and satisfied owners of Qwandoya puppies.
MY THANKS

I would like to thank all Qwandoya ridgebacks owners. I thank from the bottom of my heart for all the love, training and care they are giving to the puppies. I am thankfull that you represent colours of Qwandoya kennel at dog shows, working competitions or just between ordinary people.
At this place I need to thank my sister Nikola, for her perfect care about Mexx, but mostly for her help with my dogs and puppies anytime I need and she always prefers them to everything else...I love you, Niky.
I thank my boyfriend Pavel for his 100% support in my crazy hobby and lifestyle. Without him it would be impossible...
My another thank you flies to Petra Fedorova for her patience with me and taking care of all Qwandoya dogs. I really appreciate it!
Hanka & QWANDOYA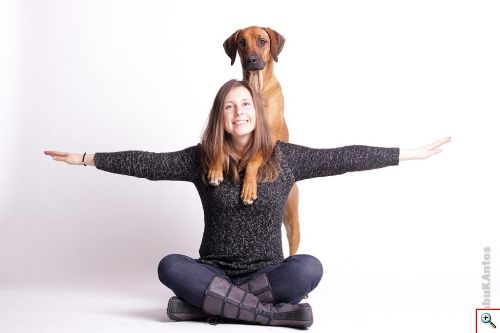 ---
OUR ACTIVITIES
SVP
Holidays
Dog shows
Coursing